Gareth Mottram, Direct Sales Manager, Paramo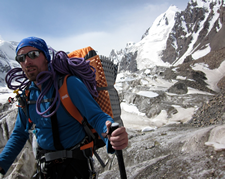 Gareth is currently the Direct Sales manager of British outdoor clothing manufacturer Páramo. He left Westfield in 1995 and went on to study Geography at University, gaining a PhD for his work using satellites to investigate the spread and impact of wildfires in Canada and Russia.
Year 10 Geography students got the opportunity to hear more about what Gareth has been up to since leaving Westfield, when he came back to speak to them to about his mountaineering expeditions to Kyrgyzstan. They hear about his experiences of living and working in Colombia, and how he developed an interest in ice-climbing which led him to the mountains of Kyrgyzstan. Despite a number of set-backs and very challenging conditions, his small team were the first climbers ever to summit a number of these peaks over 5000m in height - an achievement which enabled Gareth to officially name one of them after his mum!
As Gareth explains, "I wanted to give the talk as it was a possibility that we were never exposed to when I was at school. This is a photo of me descending the glacier, having climbed Eggemendülük ~5,230m. This is Kyrgyz for 'freedom' or 'independence', which we named in honour of the 20th anniversary of Kyrgyz independence from the Soviet Union. The one named after my mother (Sylvia) was climbed on our first expedition to the region in 2009."
Hearing these incredible accounts directly from a Westfield 'old boy' proved to be a very inspirational experience for many of our students and gave them a clear insight into the possibilities linked to the study of geography.