Luke Manning - Director, Pencil Studio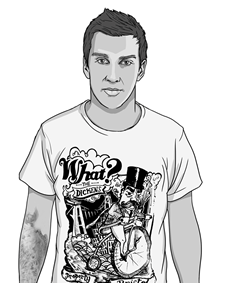 "I remember my first day, feeling extremely nervous. I'd come from a quiet, small, rural primary school, so the jump to a big comprehensive was daunting. I remember all of the teachers being extremely welcoming, and in no time I felt at home.
"I had a couple of teachers—Mr Stevenson (CDT) and Mr Clarke (Art) - who particularly saw my potential and began to help channel what I was passionate about—Graphic Design. They helped me to generate a rough portfolio which I took to my college interview at The College of Art and Design in Taunton. Thankfully, I was accepted and then spent the next five years obtaining my degree in Graphic Communication. I spent a year in London in my final year of college, working with various design agencies. I then returned south, to Bristol. Here I spent some time with a company called Taxi Studio. Whilst at Taxi I worked on projects for the likes of Clarks Shoes, Coca-Cola, and The London Science Museum.
"In 2008 I set up Pencil Studio. I now employ five members of staff and we too are working for people like Clarks, The National Trust and Hewlett Packard. Pencil has also started to win awards for our work.
"My time at Westfield had a huge influence on my career and, indeed, my life. We have now started working with Westfield Academy (as it's known these days!) helping them with creative campaigns. it's been a real pleasure to work with them. It's odd being back in the school though - I keep having flashbacks of all the fun and fond memories I had as a pupil there!"