Principal's Legacy Project - Akamba Aid
Principal's Legacy Project – Akamba Aid
We are extremely pleased to announce that Westfield Academy have helped to raise £2000.00 for the Akamba Aid Fund.
In the lead up to his retirement Mr Hunt decided to put together his 'Principal's Legacy Project' in which he has brought the whole school together to help raise money for the Akamba Aid Fund.
Akamba Aid is a charity based in South Somerset that assists hundreds of families in Kenya with affordable healthcare and education, as well as setting up community self-help groups enabling them to use their own land and resources more effectively.
Students (and staff) have spent the last two months taking part in a variety of different fundraising activities. The project was kicked off with assemblies to students and a 'Get in to Medicine' careers workshop, held at Westfield Academy. Next was a Tablestennisathon, our Summer Music Concert, a Basketball Shoot-out, two cake sales, badge & ice pops sales, a very entertaining Fun Run and Mr Hunt completed the Dartmoor North to South with his daughter. A number of students worked incredibly hard to become an Akamba Hero by taking part in all of the events based in school.
Mr Chris Hunt, Principal, says; "Once again I find myself being very proud of the students of Westfield Academy. They have learnt a little about Kenya and some have investigated a career in medicine. Yet again they have raised a good sum of money for a worthy cause and most importantly, they have had a lot of fun. I hope Westfield Academy will be able to continue links with Kenya in some small way in the future."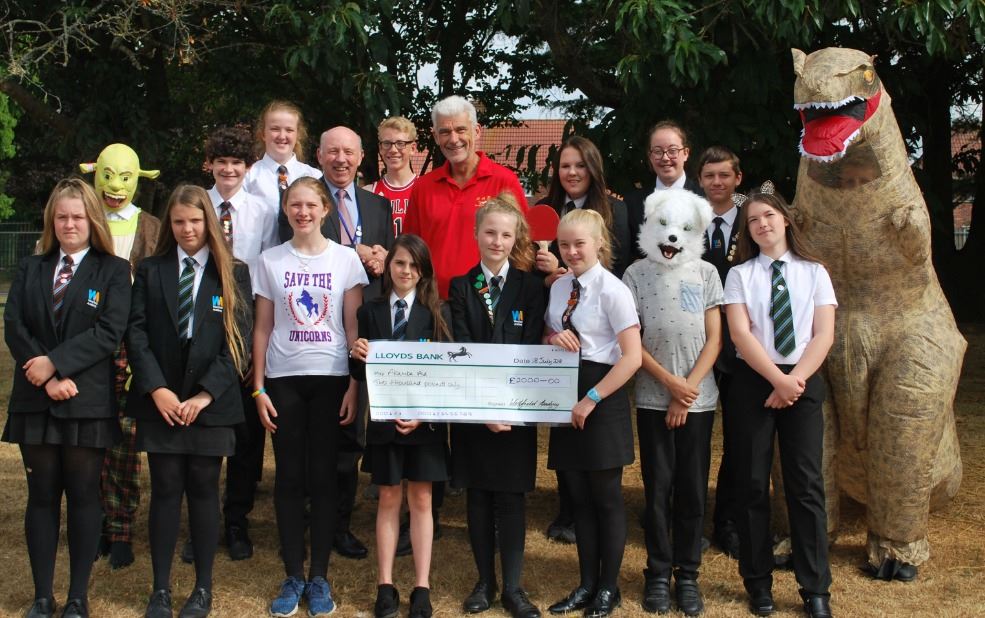 Picture Dr Buckle from Akamba Aid Fund being presented with a cheque for the money raised by Westfield Academy Students & Staff (Akamba Heroes & Fun Run Participants)
Clockwise L-R Jacob Jones, Ashley Maclauchlan, Megan Pitts, Mr Hunt, Elijah Wood, Dr Buckle from Akamba Aid, Jemma Madge, Becky Wiles, Jakub Sokolowski, James Bamford, Faith Thompson-Hinks, Theo Harper, Lily King, Jessica Drogan-Hill, Alexandra Saunders, Isabelle Caine & Abigail Saunders
Released On 20th Jul 2018