Year 9 Options - Geography
WHY THIS SUBJECT IS IMPORTANT
We live in a complex, beautiful and challenging world. Geography is the subject which opens the door to this incredible world and prepares students for their role as global citizens in the 21st century. Through studying Geography we can appreciate how places and landscapes are formed, how people and environments interact and what a diverse range of cultures and societies exist and interconnect.
WHAT'S IN IT FOR YOU?
Geography is a subject which builds on your own experiences, helping you to get to grips with some of the big questions which affect our world. The GCSE course will provide you with an opportunity to develop a wide range of very useful skills and is well respected by universities and employers alike.
WHAT WILL I STUDY?
At Westfield Academy we will be following the AQA GCSE Geography specification. Students will travel the world from their classroom, exploring case studies in the United Kingdom, higher income countries, newly emerging economies and lower income countries. Students are also encouraged to understand their role in society, by considering different viewpoints, values and attitudes. The course is divided into the following key areas:-
Living with the physical environment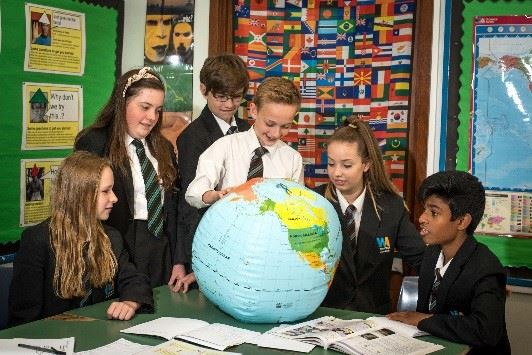 Natural hazards: Tectonic hazards, weather hazards, climate change.
The living world: Ecosystems, tropical rainforests, cold environments.
Physical landscapes in the UK: Coastal & river landscapes.
Challenges of the human environment
Urban issues: Urbanisation, urban growth in poorer parts of the world, urban change in the UK, urban sustainability.
Changing economic world: Economic development, closing the development gap, rapid economic development in newly emerging economies, economic change in the UK.
Resource management: Resource issues in the UK, energy.
Geographical applications. This will include an issues evaluation task and fieldwork.
HOW WILL I BE ASSESSED?
Coursework / Exam requirement: You will sit three written exams in the summer term of Year 11:
Paper 1 - Living with the physical environment.
Paper 2 – Challenges in the human environment.
Paper 3 – Geographical applications.